My Team
When you became my client, you placed your trust in me to help make your vision a reality. I honor that trust with the help of my associate Kristen. Together, we make a strong commitment to customer service.
If at any time you have a question, concern or need, please let us know. We are here to serve you and to be a resource.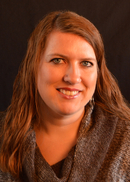 Kristen M Sanders
I started my work career in 2004 with a Bachelors Degree in Photography from Montana State University. Working in the field of my degree for 13 years, I decided to make a career change. I came to work at Northwestern Mutual in December 2016, working with Glenn E. French. Currently I am an Associate Financial Representative to Glenn working with the operations side of the business. I have enjoyed working with Glenn, and helping his clients reach their financial and retirement goals.
My husband and I have two boys and a girl that keep us busy. We enjoy summer camping trips and exploring the world together. This is my second year of being a Den leader for our local cub scout troop. This year I am working with the Webelos, which are the boys in fourth grade. My oldest recently earned his second Class in Boy Scouts, and my daughter joined girl scouts this year becoming a Daisy.